In an effort to keep people safe during an ongoing pandemic without sacrificing anyone's ability to tour new home models in Trilogy at Wickenburg Ranch, She Homes got creative. Instead of having one Grand Opening event, they decided to host a Grand Opening Season. Lunches, live music, social events, and special activities were available throughout the month of March, and guests could tour nine new home models. Potential buyers visited paired villas in The Resort Collection as well as single-home floor plans in The Freedom Collection.
Many residents who have already bought their homes in Trilogy at Wickenburg Ranch say it instantly felt like home. 55places recently spoke to a few homeowners in the community. They love where they live and encourage new buyers to check out their unique and welcoming neighborhood.
"It feels like home," Rick Johnson says. He expects to move in by June with his wife, Denise. "That's the best way I can describe it. When we drove in, it felt like home."
Why Buy in Trilogy?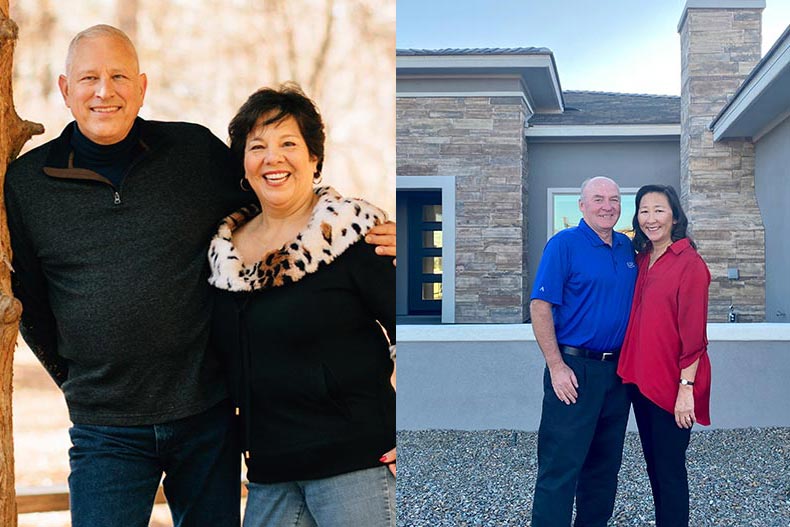 Active adults looking for a new home have a lot of options. But there's something special about Trilogy at Wickenburg Ranch (and it's not just the 18-hole championship golf course).
Brian Jones, who was the 700th homebuyer in this community with his wife Jasmine, says the people make the community special. "The people here are amazing," he says. "The nicest people we've ever lived with in a community anywhere. Genuine, real people that really care about you. It's amazing. There's just such nice folks up here."
Rick and Denise were the 800th homebuyers. They're currently in Louisiana, but Rick agrees that there's something special about the people and the staff as well. He says Shea Homes has made them feel confident and comfortable with their transparency and constant communication.
Rick says:
"They've been fantastic right from the very start. I've gotten calls from Scott, the builder, and also Hunter, the landscape architect. So we're very relaxed. They're making it very easy for us."
Trilogy is a gated neighborhood within the master-planned community of Wickenburg Ranch in Central Arizona. It provides a quiet, rural living environment while keeping residents less than an hour from Phoenix, Prescott, Scottsdale, and Mesa. Homeowners have access to a long list of resort-style amenities and lifestyle events are constantly available to those who want to stay active and engaged with their neighbors. During pandemic lockdowns, virtual events were held so neighbors could continue their wine tastings and cooking classes together.
According to Jasmine:
"There's always, always something going on at the ranch. Always. I mean, art classes, pickleball, bocce ball. I know some of the neighbors get together and do bocce ball. There's just so much stuff to do."
Jasmine says she and Brian can't wait to retire. She loves her job, but after living at Trilogy and making so many friends, she's ready to think about that next stage of her life.
Rick says he's been getting weekly emails that detail the upcoming events. He's excited about the concerts, stargazing events, museum trips, and canyon trips. "The community center there is just absolutely fantastic," he says. "We love getting out and walking [or] bicycle riding."
Age Restrictions Not Necessary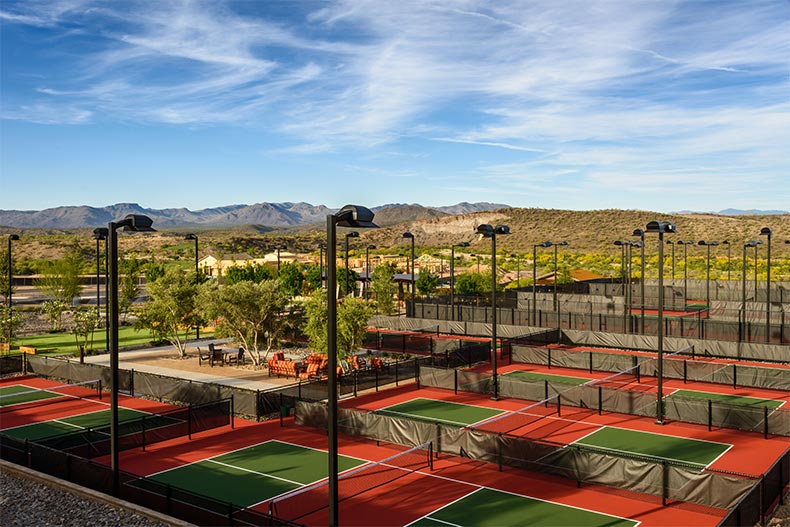 Trilogy at Wickenburg Ranch is not restricted to 55+ residents. However, there aren't many families with young children, and the community has naturally attracted active adults, some who have begun retirement and others who are still working.
Deborah Blake, a sales consultant for Trilogy at Wickenburg Ranch, says the home designs and amenities make the community more attractive to buyers who are 60 years of age or older:
"Wickenburg Ranch is really what I would term a NORC—a Naturally Occurring Retirement Community. And at Wickenburg Ranch, none of the amenities are age restricted; the community is not age restricted."
The community is attuned to the needs and desires of this age group, even without restricting younger buyers. There's a commitment to lifestyle, which is forward-thinking and innovative. "It's not just about relaxation, it's about living a long healthy, happy, and engaged life," Deborah says.
Amenities Include Fitness and Golf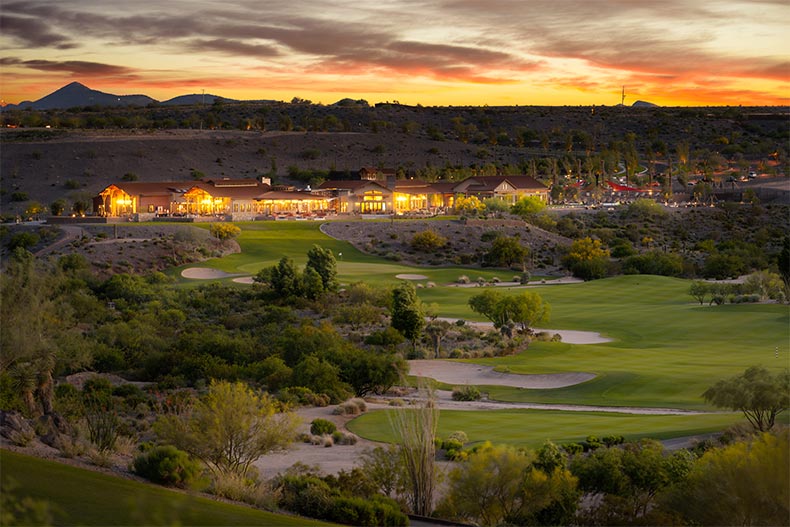 Rick has heard a thing or two about pickleball, and he's looking forward to trying it. "We're very excited about all the different amenities and activities that they have there," he says. "I'm looking forward to figuring out what pickleball is and trying my hand at that. I've heard a lot about it."
Pickleball, tennis, golf, bocce ball, and a well-appointed, modern fitness center offer residents a chance to learn a new sport or sharpen existing skills. There's also a large pool with ample seating and a sunny patio and a day spa. In addition to the 18-hole golf course, there's also a nine-hole Lil' Wick course that speaks to residents like Brian. He was looking forward to the small and simple par-three nine-hole course, and then he was astonished by its complexity.
"I thought, 'You know, that's nice. I'll go out and practice now and again,'" he says. "But when we were here at the stay-and-play and we went down there, I could not believe the quality of that course. The course is nicer than many, many 18-hole courses I've played. I was shocked."
The 18-hole championship golf course offers discounted rates to homeowners, and there's a pro shop as well as an outdoor patio for relaxing before or after a round of golf.
The main gathering spot for residents and their guests is the Wickenburg Ranch Golf and Social Club. It includes a special events center and restaurant, which is the perfect spot for parties and activities. There's an indoor/outdoor bar, and when it's time to shift from social time to quiet time, several trails wind through the scenic and well-landscaped community, making it a great place to walk, bike, or jog.
Choosing a Home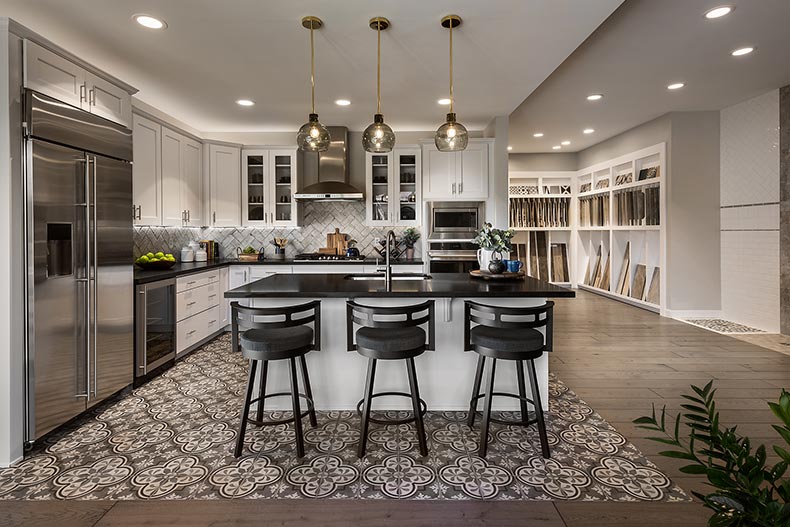 With over 2,000 new-construction homes and dozens of models at Trilogy at Wickenburg Ranch, how does a buyer select the perfect home?
Homes range from 1,210 to 3,124 square feet. Buyers can find a home with one to three bedrooms. Many floor plans include flex space that can be used as a den or office. Most homes have two to three bathrooms and an attached two- or three-car garage. There's also outdoor space and plenty of storage. Prices start in the $200s and rise into the low $1 million range.
Ultimately, the choice depends on the buyer's desired lifestyle and home size. Plenty of options are provided.
Jasmine and Brian saw their plans change when they were already in the process of purchasing a home in the community. They decided they were going to keep the home they were currently living in and wanted to switch to a smaller and less expensive model in the Trilogy neighborhood. Brian said he anticipated pushback, but the community was more than happy to accommodate their shifting needs.
"Shea was very good about working with us," he says. "The house was so far along, and I thought they were gonna tell us to go jump in the lake when we asked if we could just switch to a smaller house, but they said, 'You know what, we want you to be happy,' and they worked with us, and it was amazing. I'll be a Shea fan forever after that."
They liked the experience so much that they've since sold that small house they initially bought, and they're renting a home now inside of Trilogy, while they wait for their new, larger home within the community to be completed.
Brian says:
"We bought the little house thinking, 'We'll just stay here a couple of years and see if we really like it, and if we do, then we'll go back and buy the bigger house.' Well, it didn't take two years until we figured out we really like it here."
Jasmine is looking forward to the view from their new home. "It all worked out better because we got a beautiful lot with a beautiful view of the golf course," she says. "You can see the ninth hole, we're right above the tenth hold green, and you can see part of the eleventh. It's just beautiful, and we have a view of Vulture Peak."
Future Predictions for Trilogy and Active Adult Homebuyers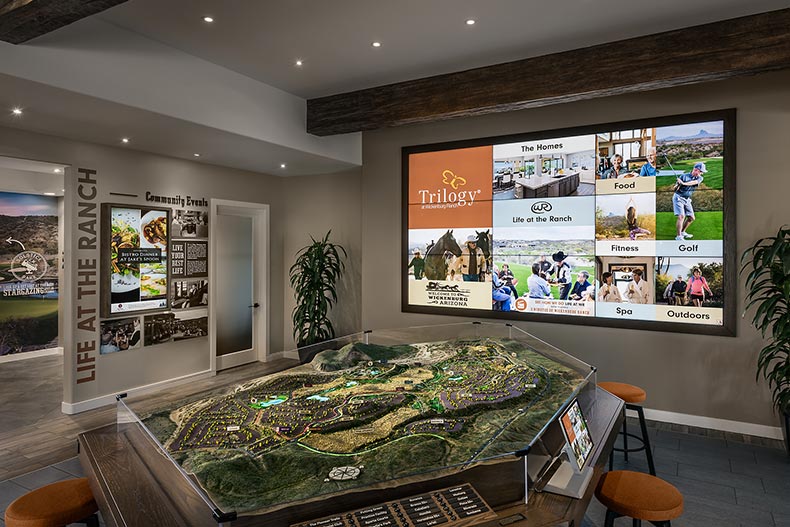 Deborah Blake encourages people who may want to move into Trilogy at Wickenburg Ranch or buy a home anywhere in Arizona to act now.
"Buy now because prices are going up," she says. Deborah says there's an inventory that's too low to meet demand, particularly in active adult communities and in Arizona generally. She says 2020 was the best-selling year for active adult communities in a decade.
"We sold 230 homes in 2020. It was the best year yet at Wickenburg Ranch. And 97 of the home sales came from California residents, and 89 came from Arizona residents, followed by Washington, Colorado, and Oregon." She says people are migrating to Arizona as a place to retire.
Deborah says:
"So if someone is thinking about moving to Arizona, they should move now and really start their research and start getting serious about what they really want, what they're looking for in a community, what they're looking for in a new home."
"Do it," Brian says when asked what he would tell buyers who are considering Trilogy at Wickenburg Ranch.
"If they like the small-town feel and they are looking to have some good friends with lots of activities and things like that, this is the place," Jasmine adds.
Rick agrees, even though he hasn't moved in yet. "Not having lived there just yet, just going off a gut feeling and having been there on a couple visits and so forth, definitely go there and take a look at it," he says. "It feels like home."
Anyone interested in Trilogy at Wickenburg Ranch can visit during the Grand Opening Season, which continues until the end of March this year.